Comentarios oficiales del Diálogo para la Cumbre de las Naciones Unidas sobre los Sistemas Alimentarios de 2021
Última actualización:
Descargar PDF
Tipo de diálogo
Estado miembro
Convocado por
His Excellency Sok Silo, Secretary General, Council for Agricultural and Rural Development
Ciudad
Phnom Penh, Cambodia
Enfoque geográfico
Cambodia
Formato
Virtual
Por favor revise los detalles que encontrará más abajo para obtener información sobre cómo registrarse en el caso de que esté disponible o contacte al convocante si le gustaría asistir.
Administrador
HE Say Ung, Director of Food Security and Nutrition Department, Council for Agricultural and Rural Development
Descripción
This Dialogue event will introduce Food Systems Concepts to technical staff of a range of ministries, explain the purposes of the Global Summit and the National Dialogues and discuss with participants the relevance of food systems to their ministries, directorates and departments and to them personally.  This dialogue event is intended to engage government staff from a range of ministries and to prepare them for taking an active role in specific topics of interest in the ongoing national dialogue.
Agradecimiento
The Council for Agricultural and Rural Development.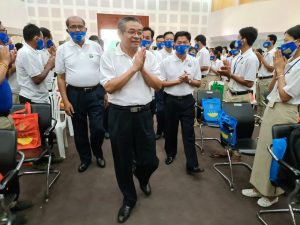 Créditos de la imagen: CARD