Tipo de diálogo
Independiente
Convocado por
Power for All (powerforall.org)
Idioma del Diálogo
English
Enfoque geográfico
No borders
Formato
Virtual
Por favor revise los detalles que encontrará más abajo para obtener información sobre cómo registrarse en el caso de que esté disponible o contacte al convocante si le gustaría asistir.
Administrador
Power for All
Descripción
Renewable energy has the potential to transform food systems in Africa and developing Asia, build a more climate-resilient future for smallholder farmers, and drive economic growth. Not just using solar irrigation, which has already seen significant momentum in the past 5 years, but for agro-processing, cold storage and much more. According to the IFC, however, affordability is the main barrier preventing smallholder farmers from adopting these solutions at scale. Numerous other barriers exist. Unlocking the potential requires business models and systems approaches that can take advantage of digitalization, innovative financing and "servitization", which democratizes access and aggregates demand. This dialogue will examine the most innovative approaches being implemented today and glean key learnings that can feed into game changing recommendations for the UN Food Systems Summit, COP26 and the High Level Dialogue on Energy.
The dialogue is convened by The Rockefeller Foundation, GACSA, the MaMo Panel and Power for All.
Register here: https://us02web.zoom.us/meeting/register/tZ0qdOGrpzsrG9Rq_5CikH6OyigZmxy-GK2n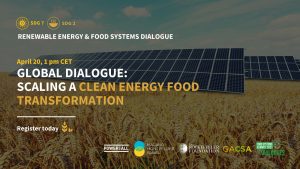 Créditos de la imagen: Power for All