بدعوة من
Power for All (powerforall.org)
نطاق التركيز الجغرافي
No borders
التنسيق
على الإنترنت
يُرجى مراجعة التفاصيل أدناه للحصول على معلومات التسجيل إذا كانت متوفرة أو الاتصال بمنظم الحوار إذا كنت ترغب في الحضور.
الوصف
Renewable energy has the potential to transform food systems in Africa and developing Asia, build a more climate-resilient future for smallholder farmers, and drive economic growth. Not just using solar irrigation, which has already seen significant momentum in the past 5 years, but for agro-processing, cold storage and much more. According to the IFC, however, affordability is the main barrier preventing smallholder farmers from adopting these solutions at scale. Numerous other barriers exist. Unlocking the potential requires business models and systems approaches that can take advantage of digitalization, innovative financing and "servitization", which democratizes access and aggregates demand. This dialogue will examine the most innovative approaches being implemented today and glean key learnings that can feed into game changing recommendations for the UN Food Systems Summit, COP26 and the High Level Dialogue on Energy.
The dialogue is convened by The Rockefeller Foundation, GACSA, the MaMo Panel and Power for All.
Register here: https://us02web.zoom.us/meeting/register/tZ0qdOGrpzsrG9Rq_5CikH6OyigZmxy-GK2n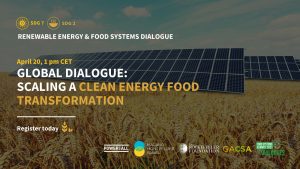 مصدر الصورة: Power for All