Comentarios oficiales del Diálogo para la Cumbre de las Naciones Unidas sobre los Sistemas Alimentarios de 2021
Última actualización:
Descargar PDF
Tipo de diálogo
Independiente
Convocado por
Amanda Katili Niode PhD
Idioma del Diálogo
English and Indonesian
Enfoque geográfico
Indonesia
Formato
Virtual
Por favor revise los detalles que encontrará más abajo para obtener información sobre cómo registrarse en el caso de que esté disponible o contacte al convocante si le gustaría asistir.
Administrador
Repa Kustipia
Descripción
BACKGROUND:
In the 21st century, global food systems face dual challenges of increasing food demand while competing for resources — such as land, water, and energy — that affect food supply. In context of climate change and unpredictable shocks, such as a global pandemic, the need for resiliency in global food systems has become more pressing than ever (Mahak Agrawal, Columbia University).
The Good Food Institute stated that alternative protein industry raised $3.1 billion in investments in 2020—three times more than in any single year in the industry's history. The same year that saw multiple social, environmental, and economic crises converge across the globe also saw record-breaking investments in alt proteins, which, not coincidentally, provide solutions to some of our most serious challenges—from climate change to global hunger.
OBJECTIVES:
This Independent Dialogue  themed «Culinary Heritage for Future Food System of Indonesia» has the following objectives:
Understand the concept of Future Food
Recognizing the agricultural, food and culinary traditions of Indonesia
Identifying Future Food Systems options for Indonesia that support Sustainable Consumption Patterns
AGENDA & SPEAKERS:
Information on Food Systems Summit, Action Track 2 & Dialog Objective by Amanda Katili, Climate Reality Indonesia
Understanding Future Food and its Role in Addressing the Climate Crisis by Claudia Laricchia, Future Food Institute
Future Food in Indonesian Context by Repa Kustipia, Gastro Tourism Academy
Dialog
Agradecimiento
Youth Leadership Camp for Climate Crisis, Climate Reality Indonesia, Omar Niode Foundation, Future Food Institute, District Collaborative Forum to Achieve Sustainable Development in Indonesia (LTKL).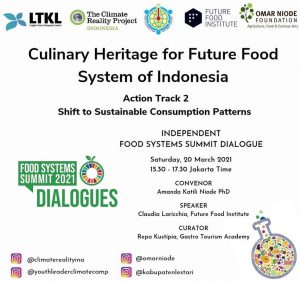 Créditos de la imagen: Climate Reality Indonesia