Comentarios oficiales del Diálogo para la Cumbre de las Naciones Unidas sobre los Sistemas Alimentarios de 2021
Última actualización:
Descargar PDF
Tipo de diálogo
Independiente
Convocado por
Foreign, Commonwealth & Development Office (FCDO), CGIAR Research Program on Climate Change, Agriculture and Food Security (CCAFS) & Wageningen University and Research (WUR)
Idioma del Diálogo
English
Enfoque geográfico
No borders
Formato
Virtual
Por favor revise los detalles que encontrará más abajo para obtener información sobre cómo registrarse en el caso de que esté disponible o contacte al convocante si le gustaría asistir.
Administrador
Melissa Pinfield, Executive Director, Just Rural Transition Secretariat
Descripción
This Independent Food Systems Summit Dialogue (FSSD) will enrich the canvas of perspectives on how food systems can be transformed for a climate-smart future.
It will open up space for dialogue on a new Action Agenda for Change developed by CCAFS, and allow stakeholders the opportunity to pledge their support to a global campaign on agricultural innovation, co-chaired by CCAFS and the UK Foreign, Commonwealth and Development Office (FCDO).
The dialogue will explore opportunities for stakeholders to become an integral part of this campaign, which will see significant announcements and initiatives at both the UN Food Systems Summit and COP26.
In addition, the dialogue will pinpoint ways in which both summits can align in their objectives to support the kind of transformation we seek, and how we—as a global community—can act to support this alignment.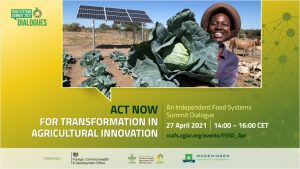 Créditos de la imagen: The CGIAR Research Program on Climate Change, Agriculture and Food Security (CCAFS)