Compte-rendu officiel des Concertations pour le Sommet des Nations Unies sur les systèmes alimentaires 2021
Dernière mise à jour :
Télécharger le PDF
Type de Concertation
Indépendant
Coordonnateur
Foreign, Commonwealth & Development Office (FCDO), CGIAR Research Program on Climate Change, Agriculture and Food Security (CCAFS) & Wageningen University and Research (WUR)
Langue de l'événement de Concertation
English
Cible géographique
No borders
Format
En ligne
Veuillez consulter les détails ci-dessous pour obtenir des renseignements sur l'inscription, s'ils sont disponibles, ou communiquer avec le coordonnateur si vous souhaitez y assister.
Animateur
Melissa Pinfield, Executive Director, Just Rural Transition Secretariat
Description
This Independent Food Systems Summit Dialogue (FSSD) will enrich the canvas of perspectives on how food systems can be transformed for a climate-smart future.
It will open up space for dialogue on a new Action Agenda for Change developed by CCAFS, and allow stakeholders the opportunity to pledge their support to a global campaign on agricultural innovation, co-chaired by CCAFS and the UK Foreign, Commonwealth and Development Office (FCDO).
The dialogue will explore opportunities for stakeholders to become an integral part of this campaign, which will see significant announcements and initiatives at both the UN Food Systems Summit and COP26.
In addition, the dialogue will pinpoint ways in which both summits can align in their objectives to support the kind of transformation we seek, and how we—as a global community—can act to support this alignment.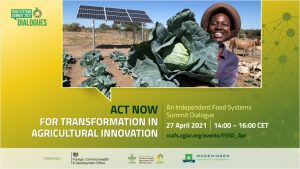 Crédit image : The CGIAR Research Program on Climate Change, Agriculture and Food Security (CCAFS)