Comentarios oficiales del Diálogo para la Cumbre de las Naciones Unidas sobre los Sistemas Alimentarios de 2021
Última actualización:
Descargar PDF
Tipo de diálogo
Independiente
Convocado por
Anna Mayne - AgRESTORE Ltd
Idioma del Diálogo
English & Te Reo Māori
Ciudad
Kaitaia, New Zealand
Enfoque geográfico
New Zealand
Formato
Virtual
Por favor revise los detalles que encontrará más abajo para obtener información sobre cómo registrarse en el caso de que esté disponible o contacte al convocante si le gustaría asistir.
Administrador
Sally McFarlane - AgRESTORE Ltd
Descripción
Due to the urgent threat of 'heat-trap' upon us in 2030, our dialogue shall have a focused lens on:
SDG 12 (responsible production and consumption) & Fast-Track 2 (shift to sustainable consumption)  3 topics shall be given further attention in on-going support of discussion held in our original dialogue held in June 2020 via Spira (Convener Emily King) where issues were identified that need solving: 1.Food Waste Reduction 2. Nutrition for Health 3. National Strategy – Food Sovereignty
Agradecimiento
Whaea Judith Hattie - Registered Nurse - Waharoa - Whaea Tui for hosting the hui/meeting - Jared Hiakita - Sipi Waitai-Ifopo - Whakatau/meeting opening - Our 3 dedicated change agents as Facilitators: Angela Clifford - CEO - eat nz, Tessa Vincent - Founding Director NZchampions123.org, Nickie Hursthouse - Registered Dietician and all our amazing Scribes - thank you.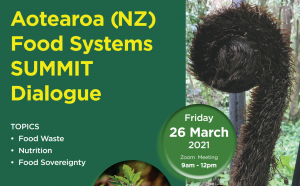 Créditos de la imagen: Thank you Sally McFarlane for creating our invitation