الملاحظات التقييمية الرسمية على الحوارات إلى قمة الأمم المتحدة للنظم الغذائية لعام 2021
آخر تحديث:
تنزيل مستند PDF
بدعوة من
Anna Mayne - AgRESTORE Ltd
لغة فعالية الحوار
English & Te Reo Māori
المدينة
Kaitaia, New Zealand
نطاق التركيز الجغرافي
New Zealand
التنسيق
على الإنترنت
يُرجى مراجعة التفاصيل أدناه للحصول على معلومات التسجيل إذا كانت متوفرة أو الاتصال بمنظم الحوار إذا كنت ترغب في الحضور.
القيّم
Sally McFarlane - AgRESTORE Ltd
الوصف
Due to the urgent threat of 'heat-trap' upon us in 2030, our dialogue shall have a focused lens on:
SDG 12 (responsible production and consumption) & Fast-Track 2 (shift to sustainable consumption)  3 topics shall be given further attention in on-going support of discussion held in our original dialogue held in June 2020 via Spira (Convener Emily King) where issues were identified that need solving: 1.Food Waste Reduction 2. Nutrition for Health 3. National Strategy – Food Sovereignty
الشكر والتقدير
Whaea Judith Hattie - Registered Nurse - Waharoa - Whaea Tui for hosting the hui/meeting - Jared Hiakita - Sipi Waitai-Ifopo - Whakatau/meeting opening - Our 3 dedicated change agents as Facilitators: Angela Clifford - CEO - eat nz, Tessa Vincent - Founding Director NZchampions123.org, Nickie Hursthouse - Registered Dietician and all our amazing Scribes - thank you.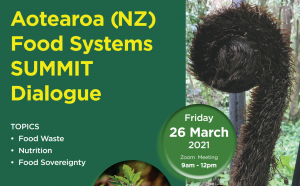 مصدر الصورة: Thank you Sally McFarlane for creating our invitation