Compte-rendu officiel des Concertations pour le Sommet des Nations Unies sur les systèmes alimentaires 2021
Dernière mise à jour :
Télécharger le PDF
Type de Concertation
Indépendant
Coordonnateur
Farm Radio International
Langue de l'événement de Concertation
English
Cible géographique
No borders
Format
En ligne
Veuillez consulter les détails ci-dessous pour obtenir des renseignements sur l'inscription, s'ils sont disponibles, ou communiquer avec le coordonnateur si vous souhaitez y assister.
Description
When it comes to global food systems, how can we ensure that small-scale farmers have their say?  And what are the consequences if they don't? 
As part of the 2021 UN Food Systems Summit, Farm Radio International presents Who's missing at dinner? Bringing farmers into the conversation on food systems through inclusive communication platforms. Including the voices of farmers and communications professionals from IFAD, Mediae, Farmer Line and Farm Radio International, this dialogue will look at the value of communication systems to amplify and include the voices  of farmers, who are the backbone of global food value chains. 
Together, speakers will address the role of communication in food systems — a theme which cross cuts all five action tracks of the 2021 UN Food Systems Summit. 
Farmers know best the challenges that face them. To create an efficient and equitable food system, both male and female farmers need communication tools and systems that put their knowledge and experiences up front. 
So, what is the role of communication in food systems? And how can communication systems bring farmers back into the conversation? 
Join us on June 2, 2021 to answer these questions and more.
Register here: https://zoom.us/webinar/register/WN_hA8BZtl4RRCGyddYZ1farQ
Remerciements
Mediae, IFAD, Farmer Line, Farm Radio International.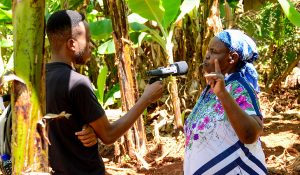 Crédit image : Farm Radio International