Compte-rendu officiel des Concertations pour le Sommet des Nations Unies sur les systèmes alimentaires 2021
Dernière mise à jour :
Télécharger le PDF
Type de Concertation
État membre
Coordonnateur
Per Callenberg, State Secretary to the Minister of Rural Affairs
Langue de l'événement de Concertation
English and Swedish
Format
En ligne
Veuillez consulter les détails ci-dessous pour obtenir des renseignements sur l'inscription, s'ils sont disponibles, ou communiquer avec le coordonnateur si vous souhaitez y assister.
Animateur
Maria Ölund, Project Manager, Focali - SIANI, Gothenburg Centre for Sustainable Development, GMV
Description
Sweden´s third and final global Food Systems Dialogue will focus on how to achieve increased food security,
protection of biodiversity, sustainable food production systems and restoration of degraded areas,
simultaneously. What are the trade-offs? And how can we realize the human right to food within the
boundaries of the planet?
Marija Milivojevic, Deputy Director, Ministry of Enterprise and Innovation, Sweden
Ulrika Modeér, Assistant Secretary General UNDP
Estrella Penunia, Secretary General, Asian Farmers' Association for Sustainable Rural Development, AFA
Emile Frison, International Panel of Experts on Sustainable Food Systems, IPES-Food
Martin Persson, Associate Professor, Chalmers University of Technology
Benin Oblet, Sorobouly village near Boromo, Burkina Faso,
Million Belay, General coordinator, Alliance for Food Sovereignty in Africa, AFSA
Richard Bemaronda, Program Manager, Marine Ecosystems and Fisheries Program, CANCO Kenya
Amy Ickowitz, Team Leader, Sustainable Landscapes & Livelihoods, CIFOR
Esse Nilsson, Senior Policy Specialist for Agriculture and Food Security, Sida
Remerciements
Siani, Sida, Swedish University of Agricultural Sciences.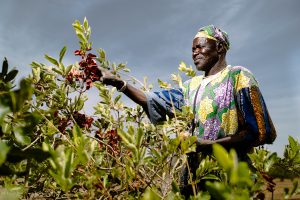 Crédit image : Photo by: Ollivier Girard/CIFOR