Compte-rendu officiel des Concertations pour le Sommet des Nations Unies sur les systèmes alimentaires 2021
Dernière mise à jour :
Télécharger le PDF
Type de Concertation
Indépendant
Coordonnateur
Sky Sheridan: SkyFarms
Langue de l'événement de Concertation
ENGLISH
Ville
Amsterdam, Netherlands
Cible géographique
Netherlands, No borders
Format
En ligne
Veuillez consulter les détails ci-dessous pour obtenir des renseignements sur l'inscription, s'ils sont disponibles, ou communiquer avec le coordonnateur si vous souhaitez y assister.
Animateur
Nadia Theuma: Paragon Europe
Description
ACTION TRACK 1:  Ensure Access to Safe and Nutritious Food For All
REGISTER FOR THE EVENT: https://bit.ly/wecanfixfood
COHORTS: 
Access vs. Ownership (separate vs. shared):  We all share it in common, so how do people OWN food systems? How can we move food production from a commercialized commodity to something that is designed in the planning of every community?  How do we repurpose empty space/land for the use of community agriculture?  Can regular citizens integrate and design for food planning in our community? How do we celebrate and nurture farmers/farming instead of exploit, and look down at them so future generations want to farm? 
Food Security/Food Waste:  A fundamental look at food systems.  What does a food secure community look like? How can we close the loop and get food waste/loss back into the system as value?  What does it mean to be a food citizen or a citizen farmer? 
Inclusion and Equity: How has the history of ag (colonialism) played a role in our current discrimination and marginalizing groups to have access to space, resources, and opportunities to grow food? What can we do to create more equity and equality for youth, women, people of color, LGBTQ+, indigenous, vets, disabled, and incarcerated? 
Agtech/CEA Solutions: What technologies are present from low-tech DIY to high-tech software, hardware, methods that are available to allow anyone, anywhere to grow food at any time? What are the accessibility of these options – has it been monopolized -is it flooded and fragmented – are their misleading promises/vendors? How can use this tech to inspire a new generation, map insights, create access, use fewer resources to connect programs with people, people with plants, and plants with the power to grow smarter and within our planetary and resource boundaries?
Sustainable, Smart Systems:  Discussing doing more with less, less consumption, local distribution, design principles.  What technologies are helping us get smarter, are there enough diverse programmers involved in the creation? How do we get that disruptive tech to serve our interconnection and wellbeing and not just mine us for data, divide and enslave us further?  How do we move out of the agriculture petrochemical inputs and outputs and change it from 10 calories in and 1 calorie out?
THEMES:
Moving food/farming from;
separated to shared
linear to circular
centralized to decentralized
established to emergent
exclusive to inclusive
destructive to constructive (sustainable, regenerative, renewable, closed-loop, repurposed, upcycled)
something that other's do, that we all do
exploiting farmers to nurturing them
ISSUES:
Separate vs. Interconnected responsibility of food/hunger
How did we become food insecure? How do people lose/ not have access? (AG History/Justice/Equity/Equality) (Gender Inclusion)
What are examples of food secure communities? How do identify what food security is? What will it take?
What are the best sustainable practices we can share to ensure access? How do we balance inputs and output to stay within our planetary boundaries, sequester carbon and restore topsoil?
How can we balance the energy inputs and outputs of a local food system, and measure the distribution of calories per community need?
What kind of open-source data can help us identify food deserts and monitor the transformation to food sovereignty?
How can AgTech/CEA  play a role in ensuring new kinds/channels of access to food?
Food Loss/Waste – what are the alternatives? Are there local solutions/case examples? Fuel/Redistributed to Food Banks
How can Open-Source/Digital Ag help close the access gap between commercialized innovation and innovation available for community?
Identifying the barriers/opportunities to consumers/citizens' involvement/awareness of their community food security.
Solve access gaps between commercialization, ownership, centralized control of food to creating opportunities for consumers and communities to create local food production, and understand their own local food security.
TOPICS:
History of Ag/Ag Renaissance, Sustainable Inputs/Outputs, Doughnut Economics, Networks, Fourth Industrial Revolution, Soil-Land-Water-Resource Management, Smart Cities/Ag, CSAs, Regenerative Ag, AgTech/CEA, Food Justice/Equity, Food Loss/Waste, Commercialized Ag vs. Community Ag.
Remerciements
Marc Buckley, Joan Holmes The Hunger Project.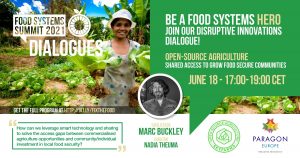 Crédit image : SkyFarms: Miguel Cabrera