Compte-rendu officiel des Concertations pour le Sommet des Nations Unies sur les systèmes alimentaires 2021
Dernière mise à jour :
Télécharger le PDF
Type de Concertation
Indépendant
Coordonnateur
Bharat Krishak Samaj and Rythu Sadhikara Samstha (RySS)
Format
En ligne
Veuillez consulter les détails ci-dessous pour obtenir des renseignements sur l'inscription, s'ils sont disponibles, ou communiquer avec le coordonnateur si vous souhaitez y assister.
Description
The UN Food Systems Summit has called for participation from diverse stakeholders in making the transition towards robust, equitable and sustainable food systems. The Food Systems Dialogues are an opportunity to bring the voices and perspectives of diverse and often underrepresented food systems actors into the Summit process.
As organizations that advocate for and work towards the interests of farmers and producers, we are organising an Independent Dialogue that would represent the farmers' stakes in our food systems. In India, while there are separate policies on agriculture, food security and nutrition, the food systems approach is lacking. The problems of unsustainable production, producer's livelihoods, consumer welfare and the environment are often seen at odds with one another. However, these issues intersect for the farmer, who is both a producer and a consumer, and depends on the environment for his/her livelihood. Keeping this in mind, the focus of our dialogue would be 'Building synergies between seemingly competing interests of production, consumption, livelihoods and the ecosystem', in the Indian context.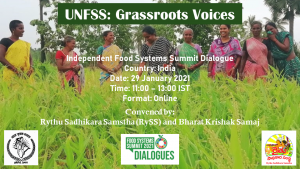 Crédit image : Rythu Sadhikara Samstha (RySS)