Type de Concertation
Indépendant
Coordonnateur
National Peasants' Coalition Nepal
Langue de l'événement de Concertation
Nepali (Slides/Presentation in English)
Format
En ligne
Veuillez consulter les détails ci-dessous pour obtenir des renseignements sur l'inscription, s'ils sont disponibles, ou communiquer avec le coordonnateur si vous souhaitez y assister.
Animateur
Nahendra Khadka, NIA Coordinator, National Peasants' Coalition Nepal
Description
National Peasants' Coalition Nepal is the national platform of leading peasants and farmers' organizations with diverse ideological, class, production, and member base came together to build a common platform with a consolidated single voice for peasants agenda and contributing to National policy advocacy and its implementation.
The UN Secretary-General António Guterres will convene a Food Systems Summit (FSS) as part of the Decade of Action to achieve the Sustainable Development Goals (SDGs) by 2030. The Summit will launch bold new actions to deliver progress on all 17 SDGs, each of which relies to some degree on healthier, more sustainable and equitable food systems. In preparation for the Food System Summit (FSS), we, the National Peasant's Coalition Nepal is organizing a National Independent Dialogue for FSS. I will be a virtual meeting on May 31, 2021, from 2:00-5:00 pm (Kathmandu Time ie GMT=+5:45 Hrs).
The global FSS board and secretariat provided various mechanisms to allow broad participation of key stakeholders. Aside from the government-organized national consultation process for FSS, national independent dialogues are very much encouraged. In line with this and to complement the government initiative, we National Peasants' Coalition, Nepal is initiating this national independent dialogue with support from IFAD through our partner Asian Farmers' Association for Sustainable Rural Development (AFA).
The National Independent Dialogue on FSS aims to:
A. Raise farmer awareness and elevate the public discussion about how reforming our food systems can help us all to achieve the SDGs by implementing reforms that are good for people and the planet.
B. Generate pro-farmer policy recommendations and significant action and measurable progress towards the 2030 Agenda for Sustainable Development by identifying solutions and leaders; and issuing a Call for Action at all levels of the food system, including national and local governments and development partners.
C. Agree on a system of follow-up and review to ensure that the recommendations generated at the national independent dialogue are considered by the national government and by various action tracks towards new actions and progress.
Remerciements
IFAD and AFA.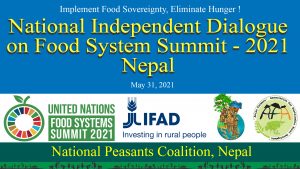 Crédit image : National Peasants' Coalition Nepal