Compte-rendu officiel des Concertations pour le Sommet des Nations Unies sur les systèmes alimentaires 2021
Dernière mise à jour :
Télécharger le PDF
Type de Concertation
Indépendant
Coordonnateur
Agribusiness Support Fund (ASF) Pakistan.
Langue de l'événement de Concertation
English
Cible géographique
Pakistan
Format
En ligne
Veuillez consulter les détails ci-dessous pour obtenir des renseignements sur l'inscription, s'ils sont disponibles, ou communiquer avec le coordonnateur si vous souhaitez y assister.
Animateur
Aeyesha Gulzar, Agribusiness Support Fund (ASF)
Description
The concept of cooperative agribusiness is used for producing high quality standardized fresh and dry products for sale to lucrative markets capitalizing on the economies of scale. The cooperative societies thus established, can feasibly coordinate their efforts ensuring quality input and output supply networks to their member farmers. These Cooperatives and Farmer Organizations (FO) also focus on imparting trainings and skills required for capacity building of the farmers necessary for successful implementation of developmental strategies.
By becoming members of farmer cooperatives and organizations smallholders and resource-poor producers can work together to access farming inputs and aggregate produce to reach better markets, while gathering a collective voice in social and policy dialogue. These cooperatives and FOs are then linked to Regional Farmer Organizations continuing up the graduation ladder to Provincial Farmer Networks.
Through these networks offering game changing solutions, farmers can achieve sustainable livelihoods, improve food security and resilience in their communities and play a greater role in meeting the growing demand for food in local, national and international markets.
Join Zoom Meeting, link below, to share your experience and valuable input:
https://us02web.zoom.us/j/4636724550?pwd=Rmlyei9JL3BJZTdTSklNaEV0Y1k2dz09
Meeting ID: 463 672 4550
 Passcode: 264177
Remerciements
Mr Ghufran Memon, Federal Secretary MNFSR. Mr Shad Muhammad, CEO, Agribusiness Support Fund (ASF). Mr Fida Muhammad, Country Program Officer Pakistan-IFAD. All FOs, Farmer Cooperatives and the Government of of Gilgit-Baltistan.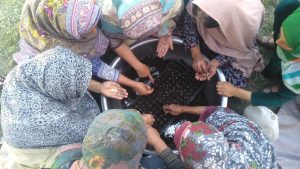 Crédit image : ASF