Compte-rendu officiel des Concertations pour le Sommet des Nations Unies sur les systèmes alimentaires 2021
Dernière mise à jour :
Télécharger le PDF
Type de Concertation
Indépendant
Coordonnateur
IICA - Instituto Interamericano de Cooperación para la Agricultura y el CATIE - Centro Agronómico Tropical de Investigación y Enseñanza
Langue de l'événement de Concertation
Spanish and English
Ville
San José Province, San José, Costa Rica
Cible géographique
No borders
Format
En ligne
Veuillez consulter les détails ci-dessous pour obtenir des renseignements sur l'inscription, s'ils sont disponibles, ou communiquer avec le coordonnateur si vous souhaitez y assister.
Animateur
Dirección de Cooperación Técnica // Directorate of Technical Cooperation
Description
El concepto de Agricultura Tropical tiende a ser muy flexible. En algunos casos se consideran los
límites geográficos convencionales y en otros, las variables como altura, precipitación,
temperatura y longitud del día. Lo anterior implica que normalmente las estadísticas y
tendencias no se agrupan bajo la categoría "tropical" y se dificulta la definición de escenarios,
objetivos e intervenciones de mediano y largo plazo.
Un elemento, que agrega complejidad al análisis, son las modificaciones antropocéntricas que
han tenido lugar para producir cultivos y animales en el "trópico" y, por ende, la diferencia
entre la agricultura tropical y la agricultura templada tiende a diluirse.
Durante este evento se busca dialogar sobre la sostenibilidad de la agricultura tropical y la
importancia de aumentar su productividad a la vez que se disminuyen las emisiones de GEI, de
acuerdo con altos estándares de calidad e inocuidad en los alimentos. En particular, se
abordarán dos sistemas productivos muy significativos en el mundo tropical: la agricultura
familiar- por su relevancia socioeconómica actual- y la agricultura industrial intensiva por los
retos e impactos que genera en el ambiente: ¿Como podrían transformarse y optimizarse estos
dos sistemas?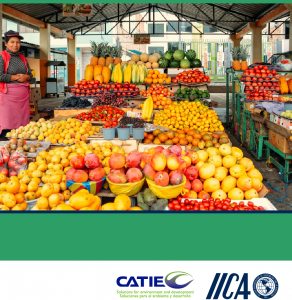 Crédit image : IICA