Type de Concertation
Indépendant
Coordonnateur
Beatrice Makwenda, Head of Policy and Communication-NASFAM
Langue de l'événement de Concertation
English
Format
En personne
Veuillez consulter les détails ci-dessous pour obtenir des renseignements sur l'inscription, s'ils sont disponibles, ou communiquer avec le coordonnateur si vous souhaitez y assister.
Animateur
Tamani Nkhono-Mvula- Farmers Union of Malawi
Description
The farmers in Malawi will engage in an independent dialogue to consolidate their contributions to the ongoing UN Food Systems Summit discussions. The focus will be on agricultural diversification that meets  income, food and nutrition aspirations; production systems that work for different farming groups more especially smallholder farmers, women and youth farmers and strengthening resilience to shocks
The consolidated inputs will feed into the ongoing national dialogues that are being coordinated by the Ministry of Agriculture as a National Convener.
Remerciements
International Fund for Agricultural Development (IFAD) and Southern Africa Confederation of Agricultural Unions (SACAU).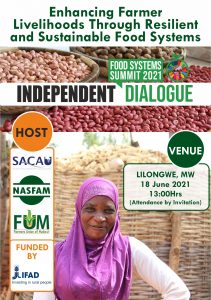 Crédit image : Vincent Nhlema- Communications Manager, NASFAM