Type de Concertation
Indépendant
Coordonnateur
John Aggrey Founder & CEO, HIRED Consult || Major Group for Children and Youth (Youth Focus Group to UNFSS)
Langue de l'événement de Concertation
English
Cible géographique
Ghana, No borders
Format
En ligne
Veuillez consulter les détails ci-dessous pour obtenir des renseignements sur l'inscription, s'ils sont disponibles, ou communiquer avec le coordonnateur si vous souhaitez y assister.
Animateur
Esther Wanza, MGCY Regional Youth Focal Point for Africa, in support of UNFSS
Description
A positive food production at scale, be it small or large scale is dependent on Biodiversity hence adopting a nature-based solution approach to better our food systems is KEY to meeting the fundamental human right to healthy and nutritious food feeding for generations to come without depleting resources.
Hosted by HIRED Consult & Major Group for Children and Youth (Youth Focus Group to UNFSS) in collaboration with Friends for Leadership (#FriendsforFood), The Global Alliance for Climate Smart Agriculture (GACSA) and special appearance from Saint-Petersburg State Agrarian University, convenes an Independent Dialogue on Action Track 3 on the theme, « Mainstreaming Nature-based Solutions for Biodiversity and Food Systems »
JOIN us on Jun 26, 2021 01:00 PM  UTC as we discuss and identify game changing solutions for #Africa
REGISTRATION REQUIRED👉LINK
—
#UNFSS #FoodSystemsHeroes
#Africa4UNFSS
#AfricanFoodSystemsDialogue
Remerciements
The Global Alliance for Climate Smart Agriculture (GACSA).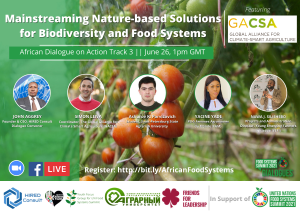 Crédit image : John Aggrey via Canva