Compte-rendu officiel des Concertations pour le Sommet des Nations Unies sur les systèmes alimentaires 2021
Dernière mise à jour :
Télécharger le PDF
Type de Concertation
Indépendant
Coordonnateur
Dr. Philippe Potin, Coalition Leader, Safe Seaweed Coalition | Dr. Flower Msuya, Founder and Chair, Zanzibar Seaweed Cluster Initiative
Langue de l'événement de Concertation
English
Cible géographique
No borders
Format
En ligne
Veuillez consulter les détails ci-dessous pour obtenir des renseignements sur l'inscription, s'ils sont disponibles, ou communiquer avec le coordonnateur si vous souhaitez y assister.
Animateur
Nichola Dyer, Sr Advisor, Partnerships, Engagement & Communication, Safe Seaweed Coalition
Description
The Seaweed Manifesto describes how macroalgae can contribute to achieving the SDGs, including SDG2. However, domestication of these marine vegetables is still in its infancy. This side event will use a mix of individual interventions and a panel discussion to provide context and present current research challenges. After tracing the evolution of seaweed cultivation through today, from wild to domesticated for five crop seaweeds, we will highlight future research challenges in promoting restorative seaweed aquaculture, including in Africa, and its role in eliminating hunger, touching on topics such as nutrition, environmental impact, and novel species. A Q&A session will follow.
Please register using the following link:
https://us02web.zoom.us/meeting/register/tZArcuCsqDwoGdw_hJiHXFXAfOQ8P4h71-Cn
Remerciements
Lloyd's Register Foundation (LRF), UN Global Compact (UNGC), Centre national de la recherche scientifique (CNRS); Azzedine Badis, Victoria Seekman, Rachael Franchini, Maria Kavuma, Charlene Xia, Allison Fortner.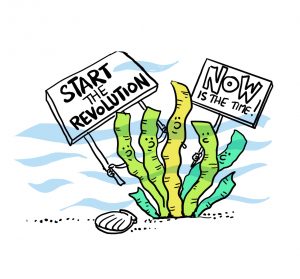 Crédit image : Lucia Fabiani, the value web