Type de Concertation
Indépendant
Coordonnateur
Nepal Food Networks
Langue de l'événement de Concertation
English & Nepali
Format
En ligne
Veuillez consulter les détails ci-dessous pour obtenir des renseignements sur l'inscription, s'ils sont disponibles, ou communiquer avec le coordonnateur si vous souhaitez y assister.
Animateur
Nepal Food Networks
Description
The whole world is facing pretty big challenges. When we open a newspaper or social media, we all see the stories about  global pandemics, extinction of plants and animals, climate change  and hunger related issues. To make our society in a state that is fit for future generations , we have a lot of work to do. We may not have the easy answers or silver bullet solutions for tackling those situations but we are hardly unaware of what to do? How is that? Because it is increasingly clear that we have an essential ingredient right before our eyes i.e Food System.
About one third of the world's topsoil is already acutely degraded, and the United Nations estimates a complete degradation within 60 years if current practices continue.  
In such a quickly changing world, can anything be sustainable? This session focuses on beyond sustainable approaches of agricultural practices that boosts the nature based production system in Nepal. The session invites speakers and facilitators who are experienced as regenerative growers, scientists and academias to discuss how regenerative agriculture practices are mainstream in Nepal. 
The goal of regenerative agriculture is to restore soils that have been deteriorated by the industrial agricultural system. Through holistic farming and grazing approaches, it promotes healthier ecosystems by regenerating soil organic matter. In the last few years, an increasing number of organizations, corporations, and producers have expressed interest in regenerative agriculture and it's slowly getting attention in Nepal as well. Nature is more collaborative than competitive. Having diverse ecosystems—whether it's through plant or animal species—means a healthier and more resilient production system. 
This webinar would be the platform for bringing out the voice of every "Food Heroes"  who are contributing to boost the nature based production system in Nepal and discuss what approaches are required.
JOIN US ON
July 02, 2021 || 4:00 PM -5:30 PM (+5:45 GMT) || ZOOM : https://bit.ly/3x3RunU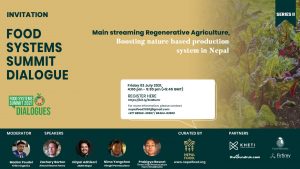 Crédit image : Nepal Food