Compte-rendu officiel des Concertations pour le Sommet des Nations Unies sur les systèmes alimentaires 2021
Dernière mise à jour :
Télécharger le PDF
Type de Concertation
Indépendant
Coordonnateur
Costa Rican Food Loss and Waste Reduction Network (Convenor,) and the Costa Rican Food Banking Network (co-Convenor) / Red Costarricense para Disminución de Pérdida y Desperdicio de Alimentos y Banco de Alimentos Costa Rica
Langue de l'événement de Concertation
Spanish
Cible géographique
Costa Rica
Format
En ligne
Veuillez consulter les détails ci-dessous pour obtenir des renseignements sur l'inscription, s'ils sont disponibles, ou communiquer avec le coordonnateur si vous souhaitez y assister.
Animateur
Laura Brenes-Peralta, Tecnológico de Costa Rica y Red Costarricense para Disminución de Pérdida y Desperdicio de Alimentos
Description
Many studies estimate that one third of  food is lost or wasted each year; and there are many causes as well as solutions in regards to this problem. This time, we would like to discuss about the potential that food donation has to prevent food waste and contribute to other matters that would place us closer to sustainable and inclusive food systems. For instance, food donation can improve the availability and access to food, it would prevent organic waste generation and related environmental impacts, and it would allow a responsible redistribution of food by producers and companies. However, many food donation aspects still require discussion. 
Varias estimaciones indican que anualmente se pierde o desperdicia cerca de la tercera parte de la producción de alimentos en el mundo y existen múltiples causas y posibles soluciones en torno a ello. En esta oportunidad, quisiéramos conversar sobre el potencial que la donación de alimentos posee no solo para prevenir el desperdicio de alimentos, sino también para abordar otras situaciones que, al considerarse, contribuirían a tener sistemas alimentarios más sostenibles e inclusivos. Es así como se podría mejorar también la disponibilidad y acceso a alimentos, la prevención en la generación de residuos e impactos ambientales asociados las pérdidas y desperdicio alimentario, y la posibilidad de redireccionar productos por parte de las empresas de una manera cada vez más responsable. Sin embargo, muchos aspectos relacionados a la donación de alimentos aún requieren discusión. 
Remerciements
We would like to acknowledge the support provided by the Food Law and Policy Clinic from the Center for Health Law and Policy Innovation of Harvard Law School and the FAO Office in Costa Rica / Deseamos agradecer el apoyo brindado por la Clínica de Leyes y Políticas Alimentarias (FLPC) de la Facultad de Derecho de Harvard y la Oficina de FAO en Costa Rica para la realización de esta actividad.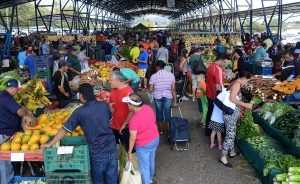 Crédit image : Laura Brenes-Peralta Marianella Gamboa-Murillo, Costa Rican farmers' market