Compte-rendu officiel des Concertations pour le Sommet des Nations Unies sur les systèmes alimentaires 2021
Dernière mise à jour :
Télécharger le PDF
Type de Concertation
Indépendant
Coordonnateur
WIld Foods, Biodiversity and Livelihood SIANI Expert Group and the NTFP Exchange Programme
Langue de l'événement de Concertation
English
Cible géographique
Cambodia, India, Indonesia, Malaysia, Philippines, Viet Nam
Format
En ligne
Veuillez consulter les détails ci-dessous pour obtenir des renseignements sur l'inscription, s'ils sont disponibles, ou communiquer avec le coordonnateur si vous souhaitez y assister.
Animateur
Femy Pinto, NTFP-EP Asia/ Diana San Jose, NTFP-EP Asia
Description
This week-long virtual forum is a culminating dialogue event in a series about the intersection of  wild foods, customary tenure rights, traditional food systems and knowledge, biodiversity and community-based livelihoods.  This independent virtual dialogue  also provides a platform for interactions and conversations about wild foods in Asia with the aim of increasing awareness, support and recognition of the role of indigenous peoples and local communities (IPLCs) and wild foods for food security and
community resilience. The dialogue also explores the current experience, challenges and recommendations about an enabling policy environment where wild foods are considered in food security policy.   The dialogue brings together  multiple stakeholders from communities, civil society, academe and the public and private sectors to reflect on practices, policies, recommendations and insights on wild foods in the region towards an outlook on wild foods and inclusive food systems in Asia to 2030.
Remerciements
Swedish International Agriculture Network Initiative (SIANI) and the Non- Timber Forest Products Exchange Programme (NTFP-EP).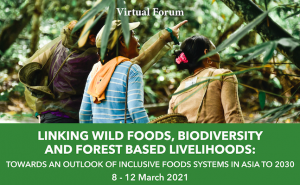 Crédit image : NTFP-EP Asia