Type de Concertation
Indépendant
Coordonnateur
Ms. Ndosak Yvette ( GCSAYN Intern), Mr. Ndzong Denis (GCSAYN Intern),Mr. Bate Livius (GCSAYN Intern)
Langue de l'événement de Concertation
French, English ,Bulu and Pidgin
Cible géographique
Cameroon
Format
En personne
Veuillez consulter les détails ci-dessous pour obtenir des renseignements sur l'inscription, s'ils sont disponibles, ou communiquer avec le coordonnateur si vous souhaitez y assister.
Animateur
Mr. Obam Arsene ( Regional Coordinator ,GCSAYN Bityili-Minkok Community, Ebolowa,South Region)
Description
Topic: « Rural Youth Engagement in the Transformation of the Broken Food Systems As a solution Space to Feeding a Growing Population »
The world's population is expected to increase by 2 billion persons in the next 30 years, from 7.7billion currently to 9.7 billion in 2050.engaging youths in agriculture has  been a prominent topic in recently and has risen up the development agenda, as there's a growing concerned world wide that young people have become disenchanted with agriculture. With most young around 85%living in developing countries where agriculture is likely to provide the main source of income it is vital that young people are connected with farming.
Currently around the world we are living in an era where rapid urbanization has led to a decline in rural populations and for the first time ever majority of the world's population lives in cities. WHO predicts that by 2030, 6 out of every 10 people will live in a city, This proportion Wil increase to 7 out of 10 people meaning that more young people than ever before are moving to cities and towns to find jobs.
Research questions
1 How we will feed the world in 2050?
2) how do you think is the future of the population in relation to food production?
3 what are some challenges of feeding the growing world population?
4) how can we make agriculture attractive to youths?
Target population: youths.
Expected results: To improve on the number of youths in agriculture which is the way forward in feeding the 9 billion people by 2050
Problem statement.
More than 9 billion people in less than 40 years. This estimate highlights a stark challenge for the global food system. Currently the world's population is about 7 billion but we are already good insecure in other parts of the world plus the additional 2 people who will live on the planet by 2050
Remerciements
HRH Mvondo Bruno (Community Leader Bityili-Minkok Community, Ebolowa,South Region) , Ntiokam Divine ( Founder and Managing Director GCSAYN & UNFSS Champion).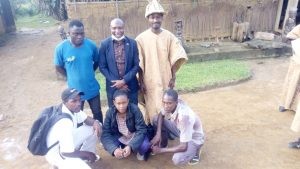 Crédit image : Princesse Mvondo Assome Pauline ( Deputy Regional Coordinator, GCSAYN Bityili-Minkok Community, Ebolowa,South Region)