Compte-rendu officiel des Concertations pour le Sommet des Nations Unies sur les systèmes alimentaires 2021
Dernière mise à jour :
Télécharger le PDF
Type de Concertation
Indépendant
Coordonnateur
1. Mr. Gerson Fumbuka (East African Community Think Tank Association); 2. Mr. Timothy Wesonga (East African Community Think Tank Association)
Langue de l'événement de Concertation
ENGLISH
Ville
JPR5+M76, Arusha, Tanzania
Cible géographique
No borders
Format
En ligne
Veuillez consulter les détails ci-dessous pour obtenir des renseignements sur l'inscription, s'ils sont disponibles, ou communiquer avec le coordonnateur si vous souhaitez y assister.
Animateur
1. Ms. Beatrice Kiraso (East African Community Think Tank Association); 2. Mr. Philip Wambugu (East African Community Think Tank Association);
Description
Theme: What Eastern and Southern Africans Consumers need for the future food       systems.
The problems of agriculture and food production in Eastern and Southern Africa have been there for a longtime. These problems have been  brought about partly by the ensuing food systems in these parts of Africa. In these regions, farmers and consumers are disconnected. The distance between food production to the consumers' table is getting longer. Consumers are not sure where the foods come from nor by whom their foods are grown. In order to solve these problems, the transition from the global food system to a local food system is imperative. In a local food system, farmers and consumers are connected and they can help each other through easier flow of information.
The global challenges of current food systems are fairly well known, including  intensification of farming systems, leading to significant erosion of ecosystems, soil quality and biodiversity. As a result, roughly 850 million people have been rendered food insecure. Food waste is high in the farms, storage, retail and consumers kitchens.  Diets in many countries are moving towards high a proportion of livestock products due to reduced number of crops as a result of dwindling  genetic  diversity. Add to this climate change and water scarcity.
It means the need for change towards more sustainable and equitable food systems, greater collaboration between different sectors and stakeholders will be key. Their collaboration will strengthen consumer protection,  the right to adequate food, securing better nutrition, better production, better environment and better lives, leaving no-one behind.
Remerciements
(1) Dr. Peter Mututu Mathuki (Secretary General-East African Community); (2) Amb. Francis Muthaura - Former Secretary General EAC; (3) Hon. Amanya Mushega -Former Secretary General EAC; (4) Amb. Dr. Juma Volter Mwapachu - Former Secretary General EAC; (5) Amb. Dr. Richard Sezibera- Former Secretary General EAC; (6) Amb. Liberat Mfumukeko- Former Secretary General EAC; (7) Dr. Kipyego Cheluget - Deputy Executive COMESA; (8) Dr. Caleb Weggoro - Chairman of the Bank of Africa (TZ) and Former Executive Director AfDB; (9) Mr. Peter Kiguta - Former EAC Director General (Customs and Trade); (10) Hon. Jesica Eriyo - Board Member for the Conservation of Nature; (11) Mr. Wilbert Kaahwa - Former EAC Counsel to the Community; (12) Mr. Aloyce Mutabingwa - Former EAC Deputy Secretary General.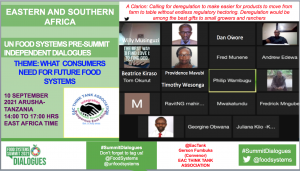 Crédit image : East African Community Think Tank Association