Compte-rendu officiel des Concertations pour le Sommet des Nations Unies sur les systèmes alimentaires 2021
Dernière mise à jour :
Télécharger le PDF
Type de Concertation
Indépendant
Coordonnateur
HEDA Resource Centre
Langue de l'événement de Concertation
English
Cible géographique
Nigeria
Format
En ligne
Veuillez consulter les détails ci-dessous pour obtenir des renseignements sur l'inscription, s'ils sont disponibles, ou communiquer avec le coordonnateur si vous souhaitez y assister.
Animateur
Ayoola Kassim (Channels TV)
Description
At the heart of strengthening the food system in Sub Saharan Africa lies the ability to communicate timely agrometeorological information to every farmer. The fragility of the Nigerian food system to climate shocks was further exposed during the COVID-19 pandemic, when extension workers were unable to transmit relevant climate information to farmers in the hinterlands due to restrictions in movements and other covid 19 protocols. As a result, many farmers made losses due to premature planting and floods /drought. The challenge is multipronged; despite availability of weather forecasting, not enough of agricultural adaptation of these data is available.
How do we fully optimise the huge capacity and potential in climate information services for strengthening the resilience of the food sector in Nigeria? How do we push the demand to to drive the provision of agrometeorological services?
This dialogue will therefore bring stakeholders from across relevant sectors to discuss their roles in strengthening the climate information services for the food sector and discuss practicable ways of building and maintaining early warning systems to ensure that our food system is resilient to climate shocks.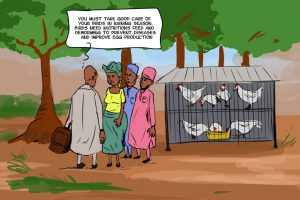 Crédit image : Abdullah