Type de Concertation
Indépendant
Coordonnateur
Green African Youth Organization (GAYO)
Langue de l'événement de Concertation
English
Format
En ligne
Veuillez consulter les détails ci-dessous pour obtenir des renseignements sur l'inscription, s'ils sont disponibles, ou communiquer avec le coordonnateur si vous souhaitez y assister.
Animateur
Eldad Kwaku Ackom - Green African Youth Organization (GAYO)
Description
Building resilience of local food systems is critical to averting large-scale future shortages and impact on climate change. One critical observation is the way long standing dialogues on global discussions have often treated youth as a distant party, discussions on food systems must recognize youth and their communities as critical stakeholders from the onset. This can be achieved through integrated consultative engagements and decision-making processes at different levels to create synergies and adequately assess linkages in the agriculture value chain towards improving the supply chain, decrease losses and waste, and also ensure access to nutritious food. 
Like all developmental elements, youth, women and children are worst hit in the event of widespread challenges. Recognizing the critical potential and role that young people and women alike can play when adequately enabled and positioned, the GAYO led food system dialogue seeks to mobilize them as essential change agents that can provide leadership on issues that affect food production. 
This dialogue will inspire youth action and their contribution directly to national food security by exploring the following;
Practices,

experiences

(existing youth action) and the

enabling environments

that will enhance the  youth engagement in building resilient food systems. 

Youth and gender considerations in existing National food policies,

policy

gaps and lessons learned and the role of in bridging the gap between evidence-based resilient actions and policy.

Effectively triggering proper youth and women synergies for resilient food systems,

Promoting cooperative action and mobilizing support

to overcome the barriers to youth engagement in building resilient food systems.
Generally the objective of this dialogue in line with the United Nations food summit objective is to; inspire youth action in making food systems more sustainable and equitable for all.
Kindly click here to register your interest to participate.
Remerciements
Dutch Embassy Ghana, Francis Essuman - WFP Ghana, John Aggrey - Hired Consult, Emmanuel Domitier - Vision 2000, Mr Schandorf Adu Bright -JetStream, Mr Ernest Obeng Chuku - UCC Ghana.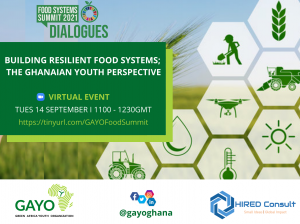 Crédit image : GAYO