Compte-rendu officiel des Concertations pour le Sommet des Nations Unies sur les systèmes alimentaires 2021
Dernière mise à jour :
Télécharger le PDF
Type de Concertation
Indépendant
Coordonnateur
Mr Kenneth Opare ( UN Food Systems Coordination Hub)( Dialogue Convenor) Mr Dwamena Alexander Yeboah ( Co-Convenor)( Teacher at Ekye Anglican Basic School)
Langue de l'événement de Concertation
English
Cible géographique
No borders
Format
En personne
Veuillez consulter les détails ci-dessous pour obtenir des renseignements sur l'inscription, s'ils sont disponibles, ou communiquer avec le coordonnateur si vous souhaitez y assister.
Description
Food production has a massive impart on our planet. Moreover, looking forward global food production needs are expected to increase more than 40% by 2030 and 70% by 2050, compare to average, 2005-07 levels (OECD and FAO 2018)
Dialogue Overview
1, Creating a commercial farming mindset.
2, Sensitization on the commercial and health benefits of the organ flesh potatoes.
3, Enhancing farmers capacity to access local and foreign markets.
4, Access to technology and funding etc.
Speakers
1, Mr Moses Bamfo ( District Director Ministry of Food and Agriculture Afram Plains)
2, Mr Evans Ntri Kyei ( DCE of Kwahu Afram Plains South)
3, Mr Kenneth Opare ( UN Food Systems Dialogue Convenor)
Therefore, it's now time to join forces and take action to meet the increase demand on the food systems, This dialogue aims to equip farmers with needed information on developing their skills to access market, technology and funds. it also aims to get positive and feasible solution in the direction of strive against hunger and poverty which ultimately help to fulfill SDGs 1.
Remerciements
Mr Evens Ntri Kyei, (DCE of Kwahu Afram Plains South), ( Permount Chief Nana Osei Yaw, Mr Dwamena Alexander Yeboah (Secretary) Mr Williams Hor ( Business Consultant).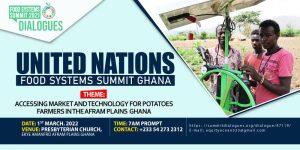 Crédit image : goodnews.com