Type de Concertation
Indépendant
Coordonnateur
Joseph Owusu - Vice President (Communication), IAAS Ghana
Langue de l'événement de Concertation
English
Format
En ligne
Veuillez consulter les détails ci-dessous pour obtenir des renseignements sur l'inscription, s'ils sont disponibles, ou communiquer avec le coordonnateur si vous souhaitez y assister.
Description
Agriculture has always been the focal point of strong economic base of many countries. All same, in the wake of the novel covid 19 pandemic, it is essential to strengthen and educate our farmers on the various innovative ways to build and strengthen our Agriculture (farmers, markets, consumers etc).
Climate Change and Food Security have been a great concern for the world according to research. Africa and for that matter Ghana has not been left by the stress of scarcity of food and insecurity to many livelihoods.
The Food Systems dialogue is one of the identified tools for addressing such challenges. Ghana is happy to be a part of the life transforming system.
This dialogue seeks to address some causes of food insecurity through the provision of seasoned speakers to engage and interact with Ghanaian Agricultural students nationwide.
The IAAS Ghana which is the national Association of all Agricultural Association seeks to partner with CSAYN to organize such a problem solving situation in Ghana.
The dialogue will essentially be held online via Zoom that will connect to larger number of students on the possible ways to achieving food security in Ghana.
Training of Students to be Food Security Ambassadors. Tertiary students in Ghana will be equipped on the various means of managing and sustaining Agricultural produce and products, ensure quality and hygienic food to live a healthy life. This will be done through the online extensive engagement with the students.
Remerciements
Divine Ntiokam- CSAYN Global.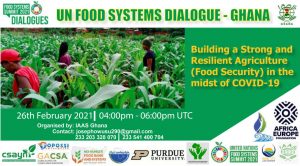 Crédit image : CSAYN (Divine & Erick)