Compte-rendu officiel des Concertations pour le Sommet des Nations Unies sur les systèmes alimentaires 2021
Dernière mise à jour :
Télécharger le PDF
Type de Concertation
Indépendant
Coordonnateur
Alessandra Apicella, Science and Technology Office Seoul; Leonardo Machado, Swissnex Brazil
Langue de l'événement de Concertation
English
Cible géographique
Brazil, Republic of Korea, Switzerland
Format
En ligne
Veuillez consulter les détails ci-dessous pour obtenir des renseignements sur l'inscription, s'ils sont disponibles, ou communiquer avec le coordonnateur si vous souhaitez y assister.
Description
Shift towards healthy and sustainable consumption patterns
Trilateral UN Independent Dialogue:
Focus on consumers' education, innovative solutions and cross-borders learning experience.
Register here
Background
The UN Environment Programme estimates that 931 million tonnes of food waste were generated in 2019, 61% of which came from households, 26% from foodservice and 13% from retail. That means that as much as 17% of total global food production is never consumed. Household per capita food waste generation is found to be broadly similar across country income groups, suggesting that actions to tackle food waste are equally relevant in higher, upper and lower-middle-income countries. The lack of education in this field generates confusion among consumers regarding recycling and resource circulation concepts. Other impacts on sustainability derive from agricultural production systems, causing deforestation, pollution, contamination and loss of biodiversity. Innovation also plays an essential role in the AgriFood production chain, bringing new solutions to sustainability from farming to restaurants and consumers' homes.
Education and innovation are the keys to building a resource circulating society. This independent dialogue aims to inspire solutions oriented to grow awareness, modify consumers' behavior and propose new practices for a transition to a more sustainable production and consumption. Dots between Brazil, South Korea and Switzerland will be connected by sharing current initiatives and discussing how they could vehicle the transformation in different cultural and social contexts.  
Topics
Collaborative approach

: The power of collaboration across the Private Sector, Government, Media and NGOs is key to systematically address this issue, creating shared value and convincing stakeholders that they can be part of this change. What are the current status and leading sectors in the specific countries?

Current initiatives:

what are the current initiatives on place at the interface between sectors? How to shift consumers' behavior, market and industry practices and transform initiatives from exception to standard at local level?

Cross-borders approach

: food waste prevention and reduction is an issue to be tackled by joining forces worldwide. Initiatives aimed at reaching this goal are effective if independent or adaptable to geolocations and wealth conditions. What is still missing? How to build this bridge?

Role of technology

: when does technology start playing a fundamental role? Can innovative food provide viable alternatives to industry standards? How can it be involved in the education of consumers considering different age ranges, cultural background, accessibility, etc?  
Moderators
Christina Senn-Jakobsen — Managing Director, Swiss Food & Nutrition Valley
As a food innovation passionista Christina aims to help solve some of the most pressing global issues related to food. With a core focus on food science and nutrition, Christina believes collaboration between sectors is fundamental to better and faster innovation, and aims to put Switzerland firmly on the map as host of a leading ecosystem in sustainable food & nutrition. Christina holds a Master's in Food Science & Technology from the University of Copenhagen and a Master's in European Food Studies from Wageningen University. She spent the first 12 years of her career at Mondelez in roles spanning R&D, innovation management, marketing and strategy before she moved on to working with entrepreneurs and startup collaborations. In January 2021 she joined Swiss Food & Nutrition Valley as Managing Director.
Gustavo Porpino – RD&I senior analyst, Embrapa Foods and Territories
Gustavo holds a PhD in Marketing from Getulio Vargas Foundation (São Paulo – Brazil), and was a visiting scholar at Cornell University, where he conducted studies about food consumption behavior. He also holds a Graduate Diploma of Business from QUT (Brisbane – Australia). He has presented research seminars in Denmark, Sweden, Greece, Belgium, the USA, Australia, and Brazil.  He works for the Brazilian Agricultural Research Corporation (Embrapa) since 2006 and he has lead two projects in the Sector Dialogues European Union – Brazil about food waste mitigation. Gustavo is also a collaborator of initiatives from the United Nations Environmental Programme (UNEP) and the Food and Agriculture Organization of the United Nations (FAO) about healthy and sustainable consumption. In his spare time, he enjoys cooking new recipes with his wife, playing with his daughter Sarah and saving leftovers.
Guest speakers and panelists 
Cross-borders context
Renato Sérgio Jamil Maluf — coordinator of the Brazilian Research Network on Food and Nutritional Sovereignty and Security
He is full Professor of the Federal Rural University of Rio de Janeiro, Brazil (UFRRJ) and leads the research group on Food and Nutrition Sovereignty and Security/UFRRJ (www.ceresan.net.br) He has been visiting researcher at: Queen Elizabeth House/ Oxford University (UK, 1996) ; Ecole des Hautes Etudes en Sciences Sociales (Paris, 2000); City, University of London (UK, 2017). Other engagements: Former President of the National Council on Food and Nutrition Security, Presidency of the Republic of Brazil (2007-2011); Steering Committee of the UN High Level Panel of Experts on Food Security (HLPE, 2010-2014); Coordinator of the Brazilian Research Network on Food and Nutrition Sovereignty and Security (2017 to date).
Junseok Oh — Government Partnerships Officer of World Food Programme (WFP) South Korea Office
Junseok Oh, a Korean national, joined WFP Korea Office in January 2019. He manages partnerships with the Korean government and other partners in the public sector. He mainly deals with annual 50,000 mt of Korean rice contribution to six developing countries, which is the single largest humanitarian assistance from the Republic of Korea (ROK). His other main role is to lead the Zero Waste Zero Hunger campaign in the public sector. During about seven years of employment at Korea Agro-Fisheries and Food Trade Corporation (a.k.a 'aT'), a state-owned company implementing agricultural policies in ROK, he was assigned to core divisions, including State Trading Team for food security and the Planning Budget Team. Then, he pursued further study in the U.K. and worked at private companies in logistics abroad. He received B.Sc. in Agriculture from Seoul National University and LL.B.(Hons) from Aberdeen University.
Braida Thom — Project manager at the ETH Competence Center World Food System
Braida Thom joined the World Food System Center as Project Manager in November 2019. In her role, she manages the research programs of the Center, including the Future Food Fellowship.
She completed her bachelor studies in Agricultural Science at ETH Zurich and her master studies in Agricultural Economics at ETH Zurich and Boku Vienna. Her master thesis was part of the Flagship project "Enhancing Resilience in Food Systems" and focused on evaluating action measures to enhance resilience of Ghanaian cocoa farmers to drought. She then joined the World Food System Center as an intern, supporting communication, outreach, and education activities.
Since May 2019, she also works with the ETH Zurich Sustainable Agroecosystems group, where she is in charge of the monitoring and evaluation of the project « Post-​harvest cocoa processing & farmers' support centers." Implemented by CABOZ AG, the project aims to counter risks along the cocoa value chain and implement sustainability initiatives in Côte d'Ivoire.
Innovation cases 
– Pedro Alexandre Martins, Innovation Manager & Head of Sourcing and Sustainability at Livup (Brazil)
– Daehoon Kim, CEO of Nuvilabs (South Korea)
– Ladina Schröter, public affairs & co-lead sustainability at Planted (Switzerland)
Collaborative approach
Gustavo Guadagnini — CEO of The Good Food Institute (Brazil).
Gustavo Guadagnini is a business administrator, graduated from PUC-SP, and serves as the Managing Director of the organization The Good Food Institute in Brazil. GFI's objective is to build a healthier, safer, fairer, and more sustainable food chain by supporting industries that aim to create alternatives to the use of animal derived ingredients, whether in vegetable-based technologies or cultured tissues. Gustavo is one of the most active advocates for the sector, which has led him to lecture at several major companies, universities, innovation centers, and projects like TEDx. He has also had the opportunity to collaborate with media outlets through interviews as well as comments for Fantástico, GloboNews, Estadão, Exame, UOL, Terra, among others. In 2020, Gustavo was pointed by GQ magazine as one of the Brazilians on the list of « 25 names that can save the world ».
Florian Viton, R&D Management Executive for Science & Technology CJ Food (South Korea)
Dr Florian Viton holds a position of R&D Management Executive for Science & Technology at the CJ Cheiljedang R&D Center in Suwon (South Korea). He is responsible for defining and executing the mid-term Science & Technology programs supporting the innovation agenda of CJ Cheiljedang, with a particular focus on Flavors Innovations. Dr Viton joined CJ Cheiljedang early 2021 following a 15 years career in the Nestle group. Florian started his career with Nestle in 2006 as a flavor scientist at the Nestle Research Center, located in Lausanne, Switzerland. In this Research Center he held scientific and managerial positions of increasing responsibility, culminating as ManCom member. In 2016 he was appointed Head of Science & Technology for Nestle in Singapore. Florian holds a Ph.D. in Organic Chemistry from the University of Geneva, and completed post-doctorate fellowships in the United States and United Kingdom before starting his professional career in a Belgium-based startup.
Christian Schwab, Executive Director of the Integrative Food and Nutrition Center of the EPFL (Switzerland)
After a very diverse career as senior leader in large multinationals (Tetra Pak, Nestlé, Firmenich) and as entrepreneur, living in 7 countries over 4 continents, Christian has joined the EPFL as Executive Director of the Food & Nutrition Centre in January 2019. In this new capacity, Christian's mission is to maximize the positive contribution of EPFL in solving some of the most pressing food related challenges facing mankind. This includes notably sustainable packaging, healthy ageing and the digitalisation of the food systems where EPFL has a lot to offer. To this end, the role of the Food & Nutrition centre is to secure a dynamic interface between the EPFL and the external partners, to stimulate the transfer of technologies and science, and in fine to maximize the positive impact of the school on our society and the environment. Since February 2020, Christian is also the President of the Executive Committee of the Swiss Food & Nutrition Valley.
Remerciements
Swissnex would like to thank all the speakers and their organizations for their commitment and engagement.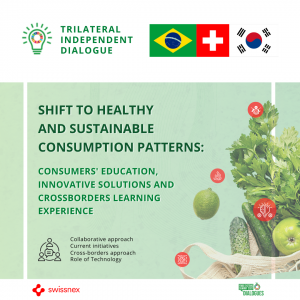 Crédit image : Science & Technology Office Seoul