Comentarios oficiales del Diálogo para la Cumbre de las Naciones Unidas sobre los Sistemas Alimentarios de 2021
Última actualización:
Descargar PDF
Tipo de diálogo
Independiente
Convocado por
Repa Kustipia, Junior Gastronomist, Gastro Tourism Academy
Idioma del Diálogo
English
Ciudad
Tasikmalaya, West Java, Indonesia
Enfoque geográfico
Indonesia
Formato
Virtual
Por favor revise los detalles que encontrará más abajo para obtener información sobre cómo registrarse en el caso de que esté disponible o contacte al convocante si le gustaría asistir.
Administrador
Marini Sriastuti (Health Promotor) and Riebowo (Food Historian and History Teacher) Gastro Tourism Academy
Descripción
Sundanese is an indigenous ethnic in West Java, Java Island, Indonesia.
Sundanese people is a pescatarian and veggie pescatarian came from their cook tradition and smart eating farm and kitchen to show zero waste food.
Sundanese people has 937 recipes from plant based diet, vegetables and fruit.
How to cook sundanese food as local food to protect the planet ?
Agradecimiento
Gastro Tourism Academy.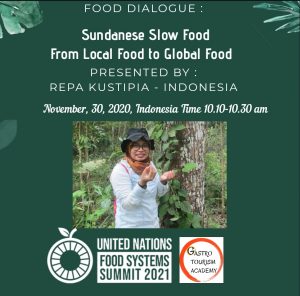 Créditos de la imagen: Gastro Tourism Academy