Official Dialogue Feedback to the United Nations 2021 Food Systems Summit
Last updated:
Download PDF
Type of Dialogue
Independent
Convened by
Repa Kustipia, Junior Gastronomist, Gastro Tourism Academy
Language of Dialogue Event
English
City
Tasikmalaya, West Java, Indonesia
Geographical focus
Indonesia
Format
Online
Please review the details below for registration information if available or contact the Convenor if you would like to attend.
Curator
Marini Sriastuti (Health Promotor) and Riebowo (Food Historian and History Teacher) Gastro Tourism Academy
Description
Sundanese is an indigenous ethnic in West Java, Java Island, Indonesia.
Sundanese people is a pescatarian and veggie pescatarian came from their cook tradition and smart eating farm and kitchen to show zero waste food.
Sundanese people has 937 recipes from plant based diet, vegetables and fruit.
How to cook sundanese food as local food to protect the planet ?
Acknowledgement
Gastro Tourism Academy.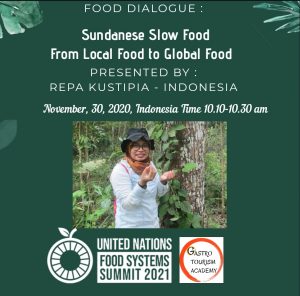 Image credit: Gastro Tourism Academy