Официальная обратная связь диалога для Саммита ООН по продовольственным системам 2021 года
Последнее обновление:
Загрузить PDF
Организатор
Repa Kustipia, Junior Gastronomist, Gastro Tourism Academy
Дата/время
Начало
Окончание
Город
Tasikmalaya, West Java, Indonesia
Формат
Онлайн
Просьба ознакомиться с приводимыми ниже данными для получения регистрационной информации, если таковая имеется, или обратитесь к руководителю диалога, если желаете принять участие.
Куратор
Marini Sriastuti (Health Promotor) and Riebowo (Food Historian and History Teacher) Gastro Tourism Academy
Описание
Sundanese is an indigenous ethnic in West Java, Java Island, Indonesia.
Sundanese people is a pescatarian and veggie pescatarian came from their cook tradition and smart eating farm and kitchen to show zero waste food.
Sundanese people has 937 recipes from plant based diet, vegetables and fruit.
How to cook sundanese food as local food to protect the planet ?
Благодарности
Gastro Tourism Academy.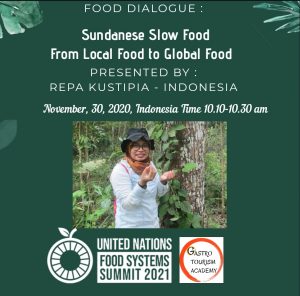 Изображение: Gastro Tourism Academy