Comentarios oficiales del Diálogo para la Cumbre de las Naciones Unidas sobre los Sistemas Alimentarios de 2021
Última actualización:
Descargar PDF
Tipo de diálogo
Independiente
Convocado por
Nick Chisholm (University College Cork), Solange Cullen (University College Cork), Patrice Lucid (Irish Forum for International Agricultural Development - IFIAD)
Idioma del Diálogo
English
Enfoque geográfico
Ireland, No borders
Formato
Virtual
Por favor revise los detalles que encontrará más abajo para obtener información sobre cómo registrarse en el caso de que esté disponible o contacte al convocante si le gustaría asistir.
Descripción
The aim of this webinar is to identify ways of addressing the problem of widespread lack of access to nutritious foods due to lack of affordability. This is a major challenge for the global food system: recent research has estimated about 3 billion people globally cannot afford a healthy diet. This has huge implications for achieving SDG2, and is a major focus of Action Track 1 (AT1) of the UN Food Systems Summit. The webinar will provide an overview of the global extent of the challenge, and will present case study evidence from projects involving Irish and other NGOs. Discussion of potential solutions will be guided by some of the "Game changer" ideas being developed in the AT1 process.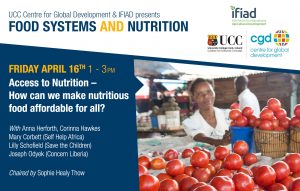 Créditos de la imagen: IFIAD