الملاحظات التقييمية الرسمية على الحوارات إلى قمة الأمم المتحدة للنظم الغذائية لعام 2021
آخر تحديث:
تنزيل مستند PDF
بدعوة من
Nick Chisholm (University College Cork), Solange Cullen (University College Cork), Patrice Lucid (Irish Forum for International Agricultural Development - IFIAD)
نطاق التركيز الجغرافي
Ireland, No borders
التنسيق
على الإنترنت
يُرجى مراجعة التفاصيل أدناه للحصول على معلومات التسجيل إذا كانت متوفرة أو الاتصال بمنظم الحوار إذا كنت ترغب في الحضور.
الوصف
The aim of this webinar is to identify ways of addressing the problem of widespread lack of access to nutritious foods due to lack of affordability. This is a major challenge for the global food system: recent research has estimated about 3 billion people globally cannot afford a healthy diet. This has huge implications for achieving SDG2, and is a major focus of Action Track 1 (AT1) of the UN Food Systems Summit. The webinar will provide an overview of the global extent of the challenge, and will present case study evidence from projects involving Irish and other NGOs. Discussion of potential solutions will be guided by some of the "Game changer" ideas being developed in the AT1 process.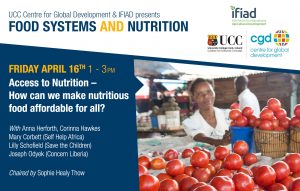 مصدر الصورة: IFIAD