Compte-rendu officiel des Concertations pour le Sommet des Nations Unies sur les systèmes alimentaires 2021
Dernière mise à jour :
Télécharger le PDF
Type de Concertation
Indépendant
Coordonnateur
Nick Chisholm (University College Cork), Solange Cullen (University College Cork), Patrice Lucid (Irish Forum for International Agricultural Development - IFIAD)
Langue de l'événement de Concertation
English
Cible géographique
Ireland, No borders
Format
En ligne
Veuillez consulter les détails ci-dessous pour obtenir des renseignements sur l'inscription, s'ils sont disponibles, ou communiquer avec le coordonnateur si vous souhaitez y assister.
Description
The aim of this webinar is to identify ways of addressing the problem of widespread lack of access to nutritious foods due to lack of affordability. This is a major challenge for the global food system: recent research has estimated about 3 billion people globally cannot afford a healthy diet. This has huge implications for achieving SDG2, and is a major focus of Action Track 1 (AT1) of the UN Food Systems Summit. The webinar will provide an overview of the global extent of the challenge, and will present case study evidence from projects involving Irish and other NGOs. Discussion of potential solutions will be guided by some of the "Game changer" ideas being developed in the AT1 process.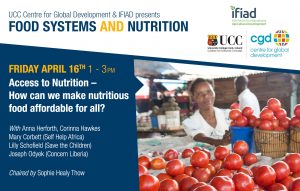 Crédit image : IFIAD