Tipo de diálogo
Independiente
Convocado por
Soffeu Nikoh Mirabelle
Idioma del Diálogo
English and Pidgin
Enfoque geográfico
Cameroon
Formato
Presencial
Por favor revise los detalles que encontrará más abajo para obtener información sobre cómo registrarse en el caso de que esté disponible o contacte al convocante si le gustaría asistir.
Administrador
Sylvia Vukensi Nkenchap
Descripción
Theme:  «Production of Healthy and Nutritious Foods through Collective Action To Contributing to the UN Food Systems Summit 2021».
Food is a big issue in our lives; it is at the Centre of our decisions and at the heart of our actions. We want to understand how the food chain can represent challenging opportunities.
Our conference aims to discuss the different links in the Food value chain in order to understand the challenges and identify opportunities. We wish to discuss the challenges and opportunities of the food systems value chain in our socio-economic context.
Agradecimiento
Foretia T. Divine (CSAYN), Terence Nfor (Earthpays), Carletto Tiam (Oceane Group).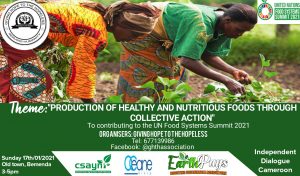 Créditos de la imagen: Nfor Terence EarthPays