Type de Concertation
Indépendant
Coordonnateur
Soffeu Nikoh Mirabelle
Langue de l'événement de Concertation
English and Pidgin
Cible géographique
Cameroon
Format
En personne
Veuillez consulter les détails ci-dessous pour obtenir des renseignements sur l'inscription, s'ils sont disponibles, ou communiquer avec le coordonnateur si vous souhaitez y assister.
Animateur
Sylvia Vukensi Nkenchap
Description
Theme:  « Production of Healthy and Nutritious Foods through Collective Action To Contributing to the UN Food Systems Summit 2021 ».
Food is a big issue in our lives; it is at the Centre of our decisions and at the heart of our actions. We want to understand how the food chain can represent challenging opportunities.
Our conference aims to discuss the different links in the Food value chain in order to understand the challenges and identify opportunities. We wish to discuss the challenges and opportunities of the food systems value chain in our socio-economic context.
Remerciements
Foretia T. Divine (CSAYN), Terence Nfor (Earthpays), Carletto Tiam (Oceane Group).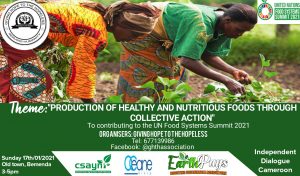 Crédit image : Nfor Terence EarthPays