Организатор
Soffeu Nikoh Mirabelle
Язык диалога
English and Pidgin
Дата/время
Начало
Окончание
Формат
Очный
Просьба ознакомиться с приводимыми ниже данными для получения регистрационной информации, если таковая имеется, или обратитесь к руководителю диалога, если желаете принять участие.
Куратор
Sylvia Vukensi Nkenchap
Описание
Theme:  «Production of Healthy and Nutritious Foods through Collective Action To Contributing to the UN Food Systems Summit 2021».
Food is a big issue in our lives; it is at the Centre of our decisions and at the heart of our actions. We want to understand how the food chain can represent challenging opportunities.
Our conference aims to discuss the different links in the Food value chain in order to understand the challenges and identify opportunities. We wish to discuss the challenges and opportunities of the food systems value chain in our socio-economic context.
Благодарности
Foretia T. Divine (CSAYN), Terence Nfor (Earthpays), Carletto Tiam (Oceane Group).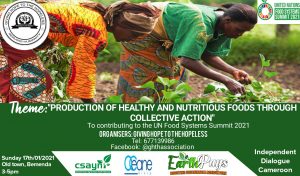 Изображение: Nfor Terence EarthPays