Tipo de diálogo
Independiente
Convocado por
Ben Pike, Food Summit project manager, AMSANT
Idioma del Diálogo
English
Ciudad
Alice Springs NT, Australia
Enfoque geográfico
Australia
Formato
Presencial
Por favor revise los detalles que encontrará más abajo para obtener información sobre cómo registrarse en el caso de que esté disponible o contacte al convocante si le gustaría asistir.
Administrador
Aboriginal Medical Services Alliance Northern Territory (AMSANT)
Descripción
The Food Summit aims to bring together Aboriginal community members and service providers to discuss solutions to the food security issues that currently exist in Aboriginal communities in the Northern Territory.  Workshop sessions and presentations will support the development of recommendations that are community led ways to address issues impacting on peoples food security. The Summits focus is on gaining community lead ideas that can lead governments and services to develop policy and advocacy areas that we can all work towards.
Agradecimiento
Australian Government, Department of Health and Northern Territory Government, Department of Health.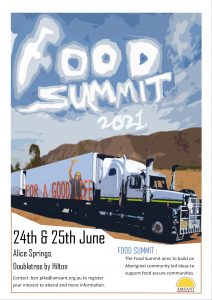 Créditos de la imagen: AMSANT