بدعوة من
Ben Pike, Food Summit project manager, AMSANT
المدينة
Alice Springs NT, Australia
نطاق التركيز الجغرافي
Australia
التنسيق
شخصيّاً
يُرجى مراجعة التفاصيل أدناه للحصول على معلومات التسجيل إذا كانت متوفرة أو الاتصال بمنظم الحوار إذا كنت ترغب في الحضور.
القيّم
Aboriginal Medical Services Alliance Northern Territory (AMSANT)
الوصف
The Food Summit aims to bring together Aboriginal community members and service providers to discuss solutions to the food security issues that currently exist in Aboriginal communities in the Northern Territory.  Workshop sessions and presentations will support the development of recommendations that are community led ways to address issues impacting on peoples food security. The Summits focus is on gaining community lead ideas that can lead governments and services to develop policy and advocacy areas that we can all work towards.
الشكر والتقدير
Australian Government, Department of Health and Northern Territory Government, Department of Health.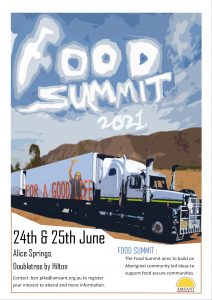 مصدر الصورة: AMSANT