Comentarios oficiales del Diálogo para la Cumbre de las Naciones Unidas sobre los Sistemas Alimentarios de 2021
Última actualización:
Descargar PDF
Tipo de diálogo
Estado miembro
Convocado por
Mr Moses Amos, Director-General Ministry of Agriculture, Livestock, Forestry, Fisheries and Biosecurity, Vanuatu ; Mr Antoine Ravo, Director Department of Agriculture, Vanuatu
Idioma del Diálogo
Bislama and English
Enfoque geográfico
Vanuatu
Formato
Presencial
Por favor revise los detalles que encontrará más abajo para obtener información sobre cómo registrarse en el caso de que esté disponible o contacte al convocante si le gustaría asistir.
Administrador
Dr Sarah James, Department of Agriculture Vanuatu
Descripción
This final dialogue will review and consolidate input provided in previous consultations and facilitate agreement among stakeholders on the national pathway to developing a healthier and more sustainable food system for Vanuatu in 2030.
Agradecimiento
Michael Taurakoto - UN Coordinator; Tsogzolmaa Bayandorj - WHO; Graham Nimoho - FAO; Lawrence Nimoho- UNICEF; Mark Vurobaravu- Deputy Director Department of Agriculture; George Borugu- National Consultant.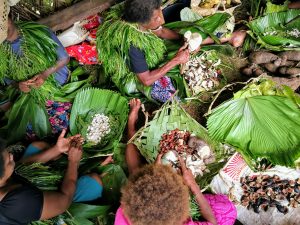 Créditos de la imagen: Dr Sarah James