Official Dialogue Feedback to the United Nations 2021 Food Systems Summit
Last updated:
Download PDF
Type of Dialogue
Member State
Convened by
Mr Moses Amos, Director-General Ministry of Agriculture, Livestock, Forestry, Fisheries and Biosecurity, Vanuatu ; Mr Antoine Ravo, Director Department of Agriculture, Vanuatu
Language of Dialogue Event
Bislama and English
Geographical focus
Vanuatu
Format
In-person
Please review the details below for registration information if available or contact the Convenor if you would like to attend.
Curator
Dr Sarah James, Department of Agriculture Vanuatu
Description
This final dialogue will review and consolidate input provided in previous consultations and facilitate agreement among stakeholders on the national pathway to developing a healthier and more sustainable food system for Vanuatu in 2030.
Acknowledgement
Michael Taurakoto - UN Coordinator; Tsogzolmaa Bayandorj - WHO; Graham Nimoho - FAO; Lawrence Nimoho- UNICEF; Mark Vurobaravu- Deputy Director Department of Agriculture; George Borugu- National Consultant.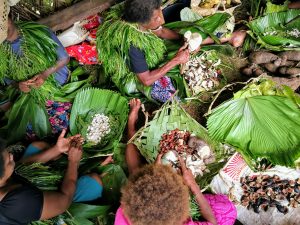 Image credit: Dr Sarah James