الملاحظات التقييمية الرسمية على الحوارات إلى قمة الأمم المتحدة للنظم الغذائية لعام 2021
آخر تحديث:
تنزيل مستند PDF
بدعوة من
Mr Moses Amos, Director-General Ministry of Agriculture, Livestock, Forestry, Fisheries and Biosecurity, Vanuatu ; Mr Antoine Ravo, Director Department of Agriculture, Vanuatu
لغة فعالية الحوار
Bislama and English
المدينة
Port Vila, Vanuatu
نطاق التركيز الجغرافي
Vanuatu
التنسيق
شخصيّاً
يُرجى مراجعة التفاصيل أدناه للحصول على معلومات التسجيل إذا كانت متوفرة أو الاتصال بمنظم الحوار إذا كنت ترغب في الحضور.
القيّم
Dr Sarah James, Department of Agriculture Vanuatu
الوصف
This final dialogue will review and consolidate input provided in previous consultations and facilitate agreement among stakeholders on the national pathway to developing a healthier and more sustainable food system for Vanuatu in 2030.
الشكر والتقدير
Michael Taurakoto - UN Coordinator; Tsogzolmaa Bayandorj - WHO; Graham Nimoho - FAO; Lawrence Nimoho- UNICEF; Mark Vurobaravu- Deputy Director Department of Agriculture; George Borugu- National Consultant.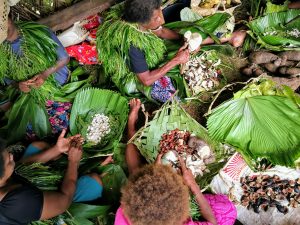 مصدر الصورة: Dr Sarah James