Comentarios oficiales del Diálogo para la Cumbre de las Naciones Unidas sobre los Sistemas Alimentarios de 2021
Última actualización:
Descargar PDF
Tipo de diálogo
Independiente
Convocado por
Monash University Department of Nutrition Dietetics and Food on behalf of the HEALTHY STORiES = GOOD FOOD working group
Idioma del Diálogo
English
Ciudad
Melbourne VIC, Australia
Enfoque geográfico
Australia
Formato
Virtual
Por favor revise los detalles que encontrará más abajo para obtener información sobre cómo registrarse en el caso de que esté disponible o contacte al convocante si le gustaría asistir.
Administrador
Nicole Turner, Chair Indigenous Allied Health Australia
Descripción
This dialogue will showcase 'good food store' stories from around remote Australia and highlight the innovative and emerging approaches to the challenges experienced by communities in providing a healthy and affordable food supply to all parts of the community and foster critical discussion among Aboriginal and Torres Strait Islander Peoples and community allies on the role of stores and other organisations for community food security.
It will feature stories from:
Maningrida, Northern Territory with the Wildfoods Enterprises and Tucker-Run
Ti Tree, Northern Territory with the Ti Tree Garden Store and community promoting healthy food
Cape York, Northern Queensland with a local Indigenous owned abattoir
Agradecimiento
Outback Stores, Elaine Lawurrpa Maypilama Associate Professor Charles Darwin University, Bawinanga Aboriginal Corporation, Floyd Constable Permaculturalist and remote Indigenous Gardens Educator, Ti Tree Community and Farm Garden Store, Seisia Meatworks.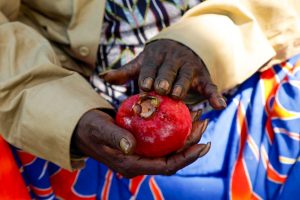 Créditos de la imagen: Djarduk Apple, Bawinanga Aboriginal Corporation. Photographer: Light Tree Media