Compte-rendu officiel des Concertations pour le Sommet des Nations Unies sur les systèmes alimentaires 2021
Dernière mise à jour :
Télécharger le PDF
Type de Concertation
Indépendant
Coordonnateur
Monash University Department of Nutrition Dietetics and Food on behalf of the HEALTHY STORiES = GOOD FOOD working group
Langue de l'événement de Concertation
English
Ville
Melbourne VIC, Australia
Cible géographique
Australia
Format
En ligne
Veuillez consulter les détails ci-dessous pour obtenir des renseignements sur l'inscription, s'ils sont disponibles, ou communiquer avec le coordonnateur si vous souhaitez y assister.
Animateur
Nicole Turner, Chair Indigenous Allied Health Australia
Description
This dialogue will showcase 'good food store' stories from around remote Australia and highlight the innovative and emerging approaches to the challenges experienced by communities in providing a healthy and affordable food supply to all parts of the community and foster critical discussion among Aboriginal and Torres Strait Islander Peoples and community allies on the role of stores and other organisations for community food security.
It will feature stories from:
Maningrida, Northern Territory with the Wildfoods Enterprises and Tucker-Run
Ti Tree, Northern Territory with the Ti Tree Garden Store and community promoting healthy food
Cape York, Northern Queensland with a local Indigenous owned abattoir
Remerciements
Outback Stores, Elaine Lawurrpa Maypilama Associate Professor Charles Darwin University, Bawinanga Aboriginal Corporation, Floyd Constable Permaculturalist and remote Indigenous Gardens Educator, Ti Tree Community and Farm Garden Store, Seisia Meatworks.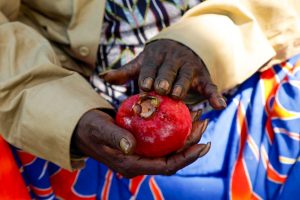 Crédit image : Djarduk Apple, Bawinanga Aboriginal Corporation. Photographer: Light Tree Media