Comentarios oficiales del Diálogo para la Cumbre de las Naciones Unidas sobre los Sistemas Alimentarios de 2021
Última actualización:
Descargar PDF
Tipo de diálogo
Independiente
Convocado por
Leonie Barelds - UNICEF Netherlands
Ciudad
Tom Schreursweg 48, 1067 MC Amsterdam, Netherlands
Enfoque geográfico
Netherlands
Formato
Presencial
Por favor revise los detalles que encontrará más abajo para obtener información sobre cómo registrarse en el caso de que esté disponible o contacte al convocante si le gustaría asistir.
Descripción
The workshop-based dialogues explore children's and adolescents' perceptions and lived experiences of their food systems, through different activities, focusing on the issues of food poverty and climate change. Naturally, these topics and their discussions cut across all five Action Tracks.
Workshops concludes with a plenary discussion to draw our key insights. These workshops will enable children to contribute their insights and perspectives to the ongoing debates across all action tracks. They discuss challenges and propose how to enhance their access to safe nutritious foods. They identify barriers to sustainable consumption patterns in their communities and suggest ways to shift behaviors.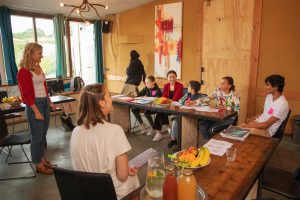 Créditos de la imagen: UNICEF Netherlands