Compte-rendu officiel des Concertations pour le Sommet des Nations Unies sur les systèmes alimentaires 2021
Dernière mise à jour :
Télécharger le PDF
Type de Concertation
Indépendant
Coordonnateur
Leonie Barelds - UNICEF Netherlands
Langue de l'événement de Concertation
Dutch
Ville
Tom Schreursweg 48, 1067 MC Amsterdam, Netherlands
Cible géographique
Netherlands
Format
En personne
Veuillez consulter les détails ci-dessous pour obtenir des renseignements sur l'inscription, s'ils sont disponibles, ou communiquer avec le coordonnateur si vous souhaitez y assister.
Description
The workshop-based dialogues explore children's and adolescents' perceptions and lived experiences of their food systems, through different activities, focusing on the issues of food poverty and climate change. Naturally, these topics and their discussions cut across all five Action Tracks.
Workshops concludes with a plenary discussion to draw our key insights. These workshops will enable children to contribute their insights and perspectives to the ongoing debates across all action tracks. They discuss challenges and propose how to enhance their access to safe nutritious foods. They identify barriers to sustainable consumption patterns in their communities and suggest ways to shift behaviors.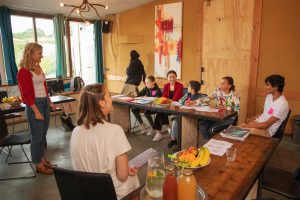 Crédit image : UNICEF Netherlands