Comentarios oficiales del Diálogo para la Cumbre de las Naciones Unidas sobre los Sistemas Alimentarios de 2021
Última actualización:
Descargar PDF
Tipo de diálogo
Estado miembro
Convocado por
Mr. Abdullah Hassan Al-Shater - Deputy Minister of Development Plans and Programs , Ministry of Planning
Formato
Presencial
Por favor revise los detalles que encontrará más abajo para obtener información sobre cómo registrarse en el caso de que esté disponible o contacte al convocante si le gustaría asistir.
Administrador
Abdulkarim Nasser - Head of SUN-Yemen Secretariat, Ministry of Planning and International Cooperation
Descripción
Introduce the Food Systems Dialogues (FSDs) and N4G Summit and what is expected from the participant countries; explain the AT5's vision, objectives and direction, and enable national government and stakeholders from the private sector and civil society to engage in the issues of constructing sustainable and resilient food systems in the coming decade.
Introduction to the Food System Dialogues, the Track Action 5;
Generate a menu of game-changing solutions;
A systemic and nexus approach (multi-system, multi sectoral, multilevel, and multi-stakeholder);
A twin-track approach linking emergency response to sustainable development;
Local and national ownership and political leadership with context-specific approach;
Strong and robust local food systems; with transformative innovations.
Sensitize government, private sector, CSOs, and other actors to take action in line with such solutions; and
Public advocacy tools to create a national movement for the outcomes of the AT5.
Agradecimiento
Laurent Bukera, WFP Country Director for Yemen - Trust Mlambo, WFP Nutrition Section - Dr. Salem Muftah, WFP Nutrition Officer.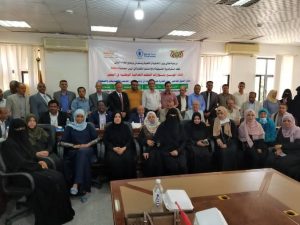 Créditos de la imagen: SUN-Yemen Secretariat