Официальная обратная связь диалога для Саммита ООН по продовольственным системам 2021 года
Последнее обновление:
Загрузить PDF
Виды диалогов
Государства-члена
Организатор
Mr. Abdullah Hassan Al-Shater - Deputy Minister of Development Plans and Programs , Ministry of Planning
Дата/время
Начало
Окончание
Формат
Очный
Просьба ознакомиться с приводимыми ниже данными для получения регистрационной информации, если таковая имеется, или обратитесь к руководителю диалога, если желаете принять участие.
Куратор
Abdulkarim Nasser - Head of SUN-Yemen Secretariat, Ministry of Planning and International Cooperation
Описание
Introduce the Food Systems Dialogues (FSDs) and N4G Summit and what is expected from the participant countries; explain the AT5's vision, objectives and direction, and enable national government and stakeholders from the private sector and civil society to engage in the issues of constructing sustainable and resilient food systems in the coming decade.
Introduction to the Food System Dialogues, the Track Action 5;
Generate a menu of game-changing solutions;
A systemic and nexus approach (multi-system, multi sectoral, multilevel, and multi-stakeholder);
A twin-track approach linking emergency response to sustainable development;
Local and national ownership and political leadership with context-specific approach;
Strong and robust local food systems; with transformative innovations.
Sensitize government, private sector, CSOs, and other actors to take action in line with such solutions; and
Public advocacy tools to create a national movement for the outcomes of the AT5.
Благодарности
Laurent Bukera, WFP Country Director for Yemen - Trust Mlambo, WFP Nutrition Section - Dr. Salem Muftah, WFP Nutrition Officer.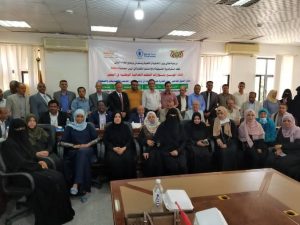 Изображение: SUN-Yemen Secretariat