Compte-rendu officiel des Concertations pour le Sommet des Nations Unies sur les systèmes alimentaires 2021
Dernière mise à jour :
Télécharger le PDF
Type de Concertation
Indépendant
Coordonnateur
Welthungerhilfe, Rural Outreach Africa, Route to Food Initiative, The African Population and Health Research Center
Langue de l'événement de Concertation
English
Cible géographique
No borders
Format
En ligne
Veuillez consulter les détails ci-dessous pour obtenir des renseignements sur l'inscription, s'ils sont disponibles, ou communiquer avec le coordonnateur si vous souhaitez y assister.
Animateur
Mary Karanu- Rural Outreach Africa, Stella Kimani- Welthungerhilfe
Description
The 2010 Kenya Constitution under article 43 1 (c) provides for the right to adequate food stating that "Every person has the right to be free from hunger, and to have adequate food of acceptable quality". Though the constitutional provision is explicit, and policies addressing food and nutrition security exist, they still do not guarantee the right to adequate food for all.  Lacking are clear lines of accountability and legal framework hence no mechanism for redress.
This dialogue will bring together diverse voices in the food system including smallholder farmers, fisherfolk, pastoralists, food processing, distributors, consumers, urban poor, women, young and old, the private sector, government, policymakers, NGOs, civil society organizations, and science to reflect on ways how the constitutional right to adequate food can be put into practice. It will also evaluate whether our current approach to food and farming systems, policies, legal frameworks, and investments both from public and private sectors promote the right to adequate food, and explore pathways to resilient, inclusive, and equitable food systems in Kenya.
Register to take part here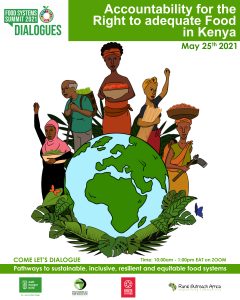 Crédit image : Sirimiri Afrika