Type de Concertation
Indépendant
Coordonnateur
Ms. Dorah Kwamboka Momanyi (Founder and CEO Nutritious Agriculture Network (NAN) and Consultancy Limited, Bioinnovate Africa Women Fellow); Ms. Laureen Wamaitha (Founder Heylaura; Agri-business Enthusiast)
Langue de l'événement de Concertation
English
Format
En ligne
Veuillez consulter les détails ci-dessous pour obtenir des renseignements sur l'inscription, s'ils sont disponibles, ou communiquer avec le coordonnateur si vous souhaitez y assister.
Animateur
Ida Nganga (President, Women in STEM Leaders Network; Regional Head UNESCO Emerging Tech); Sharon Alice (Bioinnovate Africa women Alumni Network)
Description
The role; Partnerships, Collaborations and Multi-stakeholder approaches, Technology, Nutrition Sensitive  and Gender sensitive Food Systems, Indigenous People and Foods and Smart Agricultural solutions  contribute in achieving the collective transition in Diets Towards Sustainable Nutritious Foods.
Remerciements
Nutritious Agriculture Network; Bioinnovate Africa; Women in STEM; AgriBiz; iPoP Africa, The African Association for Vertical Africa Farming (AAVF).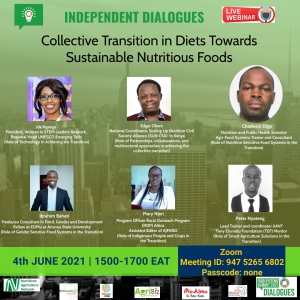 Crédit image : Dorah Momanyi